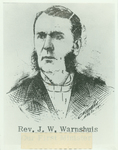 Description
In 1879, Rev. J.W. Warnshuis wrote his recollections of early Sioux County history. He published this in serial form in the local Dutch-language newspaper, De Volksvriend.
The articles were later translated by Dr. Paul Vander Kooi, an Orange City physician.
Warnshuis writes about the settlement of the county, its geography, its leaders, and its religious and educational institutions. He writes extensively about the grasshoppers, explaining the lifecycle of these insects and proposing methods for stopping their destruction.
Warnshuis served as an area pastor in the Reformed Church, plus he was a Bible instructor and minister at Northwestern Classical Academy.
Keywords
history, Sioux County, pioneers, settlement, Iowa, west, grasshoppers, prairie towns
Recommended Citation
Warnshuis, J. W., "The History of Sioux County" (1879). Memoirs. 2.
https://nwcommons.nwciowa.edu/regionalhistory_memoirs/2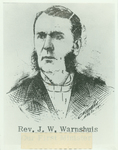 COinS