Preview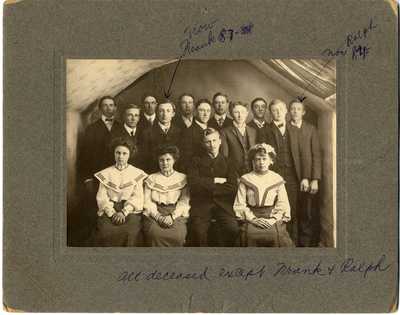 Description
Text on photo: "Frank now 87, Ralph now 84. All deceased except Frank & Ralph"
Text on back of photo: "Class in Harrison Academy, from left to right:
Charles Aardaple - ?
Irwin Oakland - Dentist
Frank van der Meer - ?
Frank LeCocq - Civil Engineer
Arie van Arendonk - teacher
Frank Mollema - ?
---- Taylor - lawyer in So. Dak
---- Buekleman - doctor in So. Dak
Case De Haan - merchant in Platte S. Dak
Harry Markus - teacher in Indiana
Ralph B. LeCocq - lawyer, Lynden Wash.
Alice Vis De Lange - housewife Harrison S.D.
Gertrude Pennega - ?
Professor rev. D. J. Dykstra
Lena De Haan - housewife, Sioux Falls S. Dak."
Keywords
LeCocq, Ralph, Frank, Harrison School, Academy, South Dakota
COinS